This is a Misunderstood Character.
Butch
, appeared in the episode "
The Tale of Oblivion
".
Biography
Butch is a black Rotweiller, who was often seen chained outside, on the way to school by twins Max and Shelley. 
Max might have intentionally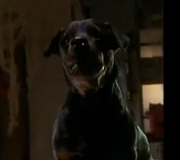 frightened him at a previous time. This is because whenever he would see Max he would viciously bark at him, and Max was afraid he would bite him.
Eventually he got loose one day, and he chased Max up a tree while viciously barking at him from on the ground. Max then decided to use the Tools of Oblivion to erase him. This made him literally become erased and sent to Oblivion.
Later when Max erased himself to rescue his sister from Oblivion, he was found stuck in a cart. He was about to sent from a conveyor belt machine into a garbage disposal unit. Until Max erased all of Oblivion, except for him, Max and Shelley and Sardo,
He was last seen relaxing and playfully being patted by Max. Possibly now he made his peace with Max or earned his trust.
See Also
Ad blocker interference detected!
Wikia is a free-to-use site that makes money from advertising. We have a modified experience for viewers using ad blockers

Wikia is not accessible if you've made further modifications. Remove the custom ad blocker rule(s) and the page will load as expected.