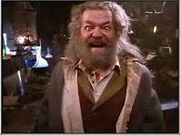 This Character is a Villain!
Dr Vink was a physically imposing man who would often appear as a mad scientist, sorcerer and the like. When he enters, he introduces himself by saying, "Vink's the name. Dr. Vink." He would also get his name mispronounced, usually something like "Dr. Fink?" When this happened, he would respond "Vink. With a va-va-va".
Often, the protagonist would call him a "nutbag" behind his back, assuming he could not hear him, only to have him reply later, "...and I am not a nutbag." Unlike Sardo whose character was set in a magic shop, Dr. Vink had many 'unique endeavors' as he called them within the stories he appears in. These ranged from living deep in the woods conducting strange nature experiments, being a retired filmmaker, owning his own restaurant as head chef and lastly a barbershop. His activities were usually villainous and designed to put the characters in peril and allow him the last laugh. However in his last appearance, "The Tale of Cutter's Treasure" (which was told by both Frank and Gary), he allied himself with Sardo and the main characters without his usual maliciousness. He appeared exclusively in Frank's stories.
Appearances
See Also
Ad blocker interference detected!
Wikia is a free-to-use site that makes money from advertising. We have a modified experience for viewers using ad blockers

Wikia is not accessible if you've made further modifications. Remove the custom ad blocker rule(s) and the page will load as expected.