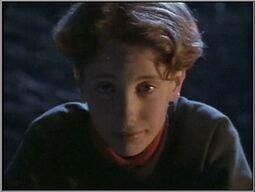 Eric was a member of The Midnight Society portrayed by Jacob Tierney.
Biography
Not much is known about Eric. It is said that he is of Irish ancestry, which inspired The Tale of Jake and the Leprechaun. He was immature, childish and cocky and could be slightly antagonistic towards other members of the midnight society, especially Frank whom he seemed to enjoy baiting. In season 2, Eric left without explanation.
Stories
Unnamed story (Twisted Claw's beginning)
Ad blocker interference detected!
Wikia is a free-to-use site that makes money from advertising. We have a modified experience for viewers using ad blockers

Wikia is not accessible if you've made further modifications. Remove the custom ad blocker rule(s) and the page will load as expected.