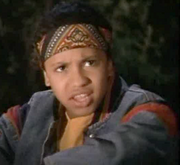 Kiki
was an original member of the
Midnight Society
portrayed by
Jodie Resther
.
Biography
Not much is known of Kiki's past. She seems to be somewhat of a tomboy and It is shown. However, she knows Stig most likely from school and strongly dislikes him. It's possible that during her whole course of going to school, Stig has always attended the same schools as she has and is a few years younger or they might be in the same grade. Or she knows him from her neighborhood.
Theme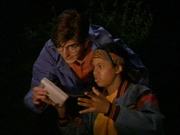 Kiki's stories tend to be about the danger of carelessness or deceitfulness, or the danger of history repeating itself. Her stories also tend to include people of color as the main characters and feature girls that are athletic or tomboys.
Stories
Trivia
One of three members who stayed all five original seasons, alongside Gary and Betty Ann.
It is revealed in The Tale of the Dangerous Soup that she is scared of dogs, as she was bitten by one when she was a little kid.
The main character of Kiki's story The Tale Of Apartment 214, wears the same gray and blue stripped sweater that KiKi wore in The Tale of The Midnight Ride, one episode before. Stacy also wears her hair in a similar ponytail as Kiki, which begs the question if perhaps KiKi is going through some of the problems Stacy is. (i.e., parents divorce)
Ad blocker interference detected!
Wikia is a free-to-use site that makes money from advertising. We have a modified experience for viewers using ad blockers

Wikia is not accessible if you've made further modifications. Remove the custom ad blocker rule(s) and the page will load as expected.