This Character is a Villain!
Officer John White, appeared in the episode, "The Tale of the Phone Police", he was portrayed by Erik Rutherford. (Uncredited)
Biography
He's a
Phone Police
Officer who arrested and handcuffed Jake O'Brien and helped throw him into a cell and removed him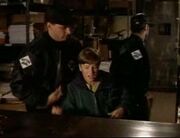 from reality. Possibly the reason he knew Jake's name, is because he along with the rest of the Phone Police had been in pursue of him for a while. Possibly he was going to arrest Jake's friend Chris too, but Chris ran off before he got the chance.
See Also
Ad blocker interference detected!
Wikia is a free-to-use site that makes money from advertising. We have a modified experience for viewers using ad blockers

Wikia is not accessible if you've made further modifications. Remove the custom ad blocker rule(s) and the page will load as expected.