Zeebo

"Give it back!"

Alias:

Cirus Carney (Possibly)

Gender:

Male

Date of Birth:

Unknown

Date of Death:

1924

Occupation:

Clown, thief (During life), Ghost

Cause of Death:

Burned to death in a fire.

Goals:

To steal the circuses payroll and to retrieve his clown nose.

Fate:

Ends up getting his clown nose back and haunting Laughing in the Dark.

Episode(s):

Portrayer:

Aron Tager
This Character is a Villain!
The character of Zeebo the Clown who appeared in "The Tale of Laughing in the Dark" is referenced in several other stories, for example, in the episode "The Tale of the Whispering Walls", two children mention seeing him at a fun park, in the episode "The Tale of the Crimson Clown" in the boys room a video game called Zeebo's Big House can be seen on the desk with a picture of Zeebo on it as the title character. The video game was also mentioned in the episode "The Tale of Train Magic".  Also in the episode "The Tale of the Mystical Mirror", a girl says she will look like Zeebo if she wears too much lipstick, and finally, in the episode "The Tale of the Night Shift", the teenage janitor is called Zeebo by his supervisor a few times at the beginning of the episode.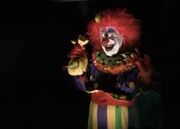 Ad blocker interference detected!
Wikia is a free-to-use site that makes money from advertising. We have a modified experience for viewers using ad blockers

Wikia is not accessible if you've made further modifications. Remove the custom ad blocker rule(s) and the page will load as expected.